Imagine yourself being pampered, relaxing on the deck with a Pina Colada, dining in luxury, practicing your game with a pro, enjoying a late night putting tournament, sleeping like a log to the lull of the sea then waking to play 18 holes on an exotic tropical course somewhere in the Caribbean.
This, my friends, is called taking a cruise to your golf course!
We've tried a couple of these cruises and loved them...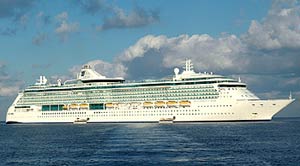 Our most exotic experience was on the Royal Caribbean Brilliance of the Seas. It was a 10 day excursion to the Panama Canal that simply blew us away. Service, food, ship amenities and the friendliness and helpfulness of the amazing staff was more than we expected. On our cruise we visited Aruba and played Tiera Del Sol (click here for our review of this course). We also planned some golf on Grand Cayman - but the courses had not yet recovered from hurricane Ivan that tore through the island in September of 2004. We did, however, rent a car and drive around to check the courses out. The Britannia Golf Club is a Jack Nicklaus design that acually combines two courses, while the Links at Safe Haven is a championship 18 hole course that offers panoramic vistas of the ocean. We hope to return on our next cruise to review these courses.
Although Royal Caribbean does not have a golf program, per se, when we informed the staff that we intended to golf at specific ports, they were more than helpful in ensuring that we left the ship on time and gave us specific directions and/or contacts for a ride to the property.
Our second cruise was on the Carnival Victory. Carnival has an actual golf program through Elite Golf Cruises whereby you can book your golf with your cruise as well as arrange lessons, analysis and more. We visited Puerto Rico, St. Thomas and St. Maarten - and again, primarily because of hurricanes - golf was only available on St. Thomas (see our review of Mahogany Run by clicking here).

Although we had arranged our rounds at the course prior to contacting Elite Golf Cruises, the pro on board our ship ensured that we were treated to the "Elite Experience". Dave was given an on-board swing analysis and some great tips from the pro - using the exclusive V1 Digital Coaching System. Upon docking in St. Thomas, we met with the other golfers on the ship, enjoyed an open air bus ride to the course, given clubs (shoes, balls, etc are also available) and enjoyed a wonderful round of golf on 18 of the some of the most beautiful golf holes in the Caribbean. The program is great and we can't say enough about Elite Golf Cruises. They offer their services on numerous cruise ships and you can find more information by clicking here.
The cruises we chose were with two of the most popular cruise lines in the Caribbean - Royal Caribbean and Carnival. We enjoyed the Royal Caribbean experience more - although the price was higher, it was a more "stately" type cruise. There was lots of activity on the ship even though the Brilliance is not the largest ship in the fleet - with anything from mini-golf to art auctions to a full service spa and health club to shopping on board. The staff were very attentive and the dining was incredible. Dinner on the Brilliance was a 5 star experience every night.
Our Carnival Cruise was also enjoyable and the room was comfortable (we took inside cabins on both ships and didn't feel "interior" at all). The price was lower and the ship was larger and featured most of the same amenities we enjoyed on the Royal Caribbean cruise. The crowd was definitely younger on Carnival so the shipboard activities were largely geared toward that group (although many over 50's participated with enthusiasm!). Staff on the ship were friendly enough and there were more restaurants and seating opportunities on Victory than we found on the Brilliance.
No matter what your taste, there is definitely a cruise out there for you. If you love the Caribbean and you love to golf, our advise is to give this a try. We're looking forward to another cruise/golf experience in the next year or so. Its the closest thing we've ever found to truly relaxing on a holiday!