St. Thomas is one of the Caribbean's most famous and most visited islands.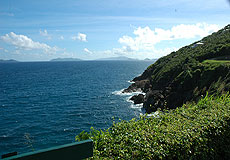 Duty-free shopping, beautiful white sand beaches, tropical breezes, incredible mountainscapes with ocean vistas, and warm, friendly people keep visitors coming back year after year.
Only one public golf course is available on St. Thomas - the world famous Mahogany Run - which has challenged the likes of Bill Clinton, Michael Jordan and John Travolta. This incredible Fazio design is one that is not too be missed when travelling through the caribbean. Visit our pictorial review by clicking on the link below.